This section highlights the rich and varied events programme that is running as part of Hybrid Futures. We have included audio and video links to those events we have recorded in case you couldn't attend.
Upcoming: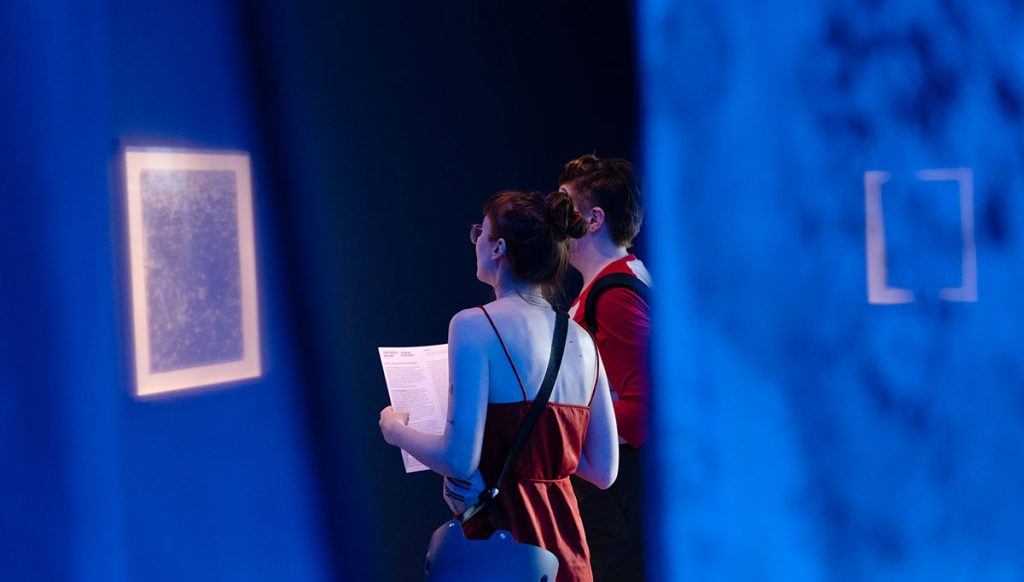 Sun 17 Sep, 3 – 4:30pm, Price: £0 – £3
Castlefield Gallery, Manchester
Taghounja Listening Party and Conversations on Sound, chaired by radio producer Alexa Kruger, musician and composer SAAD ELBARAKA, musician and actor Mokhtar Hsina, and artist Jessica El Mal.
Join us on Sunday 17 September to experience Taghounja (2023) loud, through high quality speakers, followed by a discussion interrogating sound as a medium, oral tradition and the role of both within ecological concerns.
Taghounja draws out the musicality of the rain and its links between culture, spirituality and song. El Mal worked with musician Saad Elbaraka and Oud player Mokhtar Hsina. The piece also includes a popular children's chant which wishes for the rain to come and sound sampled from Zeft (a 1984 film by Tayeb Saddiki) in particular the sound of the agricultural machinery, dialogue about rain, and the sound of rain.
More information about this event and booking details here.
Past:
Sat 19 Aug, 12 – 3:00pm, Price: £0 – £3
Castlefield Gallery, Manchester
Join artist Gregory Herbert to explore what lichen in the surrounding area of Castlefield Gallery tells us about the air quality of Manchester. As we build up a map of what species of lichen are in the surrounding area we will also explore augmented reality experiences that correlate.
Winnowing Phase was originally commissioned by Rule of Threes in partnership with Liverpool John Moores University Public Health Department and Senior Researcher, Ivan Gee. Produced by Faye Hamblett-Jones.
More information about this event and booking details here.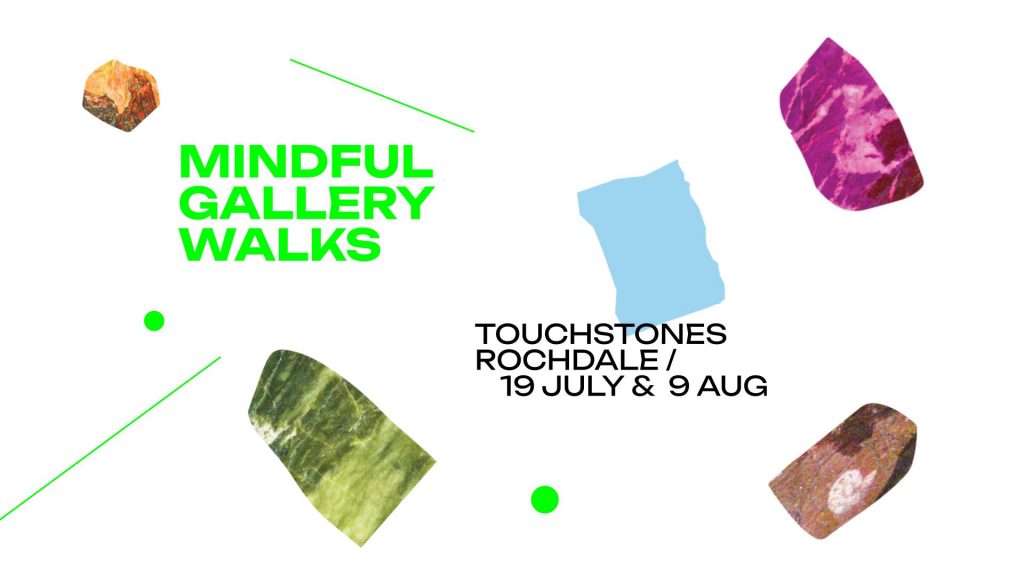 Wed 9 Aug, 5:30pm, Tickets from £2.50
Touchstones, Rochdale
Join Louise Corlett of Your Home Yoga for a unique and relaxing Mindfulness guide through the gallery spaces at Touchstones, Rochdale.
Learn how to become more aware of your thoughts through a range of techniques that have been proven to reduce stress and improve well-being.
The sessions will explore the current exhibitions at Touchstones, including Shezad Dawood: Leviathan: From the Forest to the Sea, part of Hybrid Futures, and Helene Appel: Among Trees, Among Sand Grains.
More information about these events and booking details here.
Wed 2 Aug, 11am – 2:30pm, Free – Drop in
Touchstones, Rochdale
Bring the family along to the final Family Fun Day at Touchstones before the building closes its doors for a major redevelopment project. There will be a mix of bookable and drop-in activities for everyone where you can get creative and have fun! Activities are inspired by the current exhibitions at Touchstones, including Shezad Dawood: Leviathan: From the Forest to the Sea, part of Hybrid Futures, and Helene Appel: Among Trees, Among Sand Grains.
More information about the day is available here.
Sun 16 July 12-3pm, Price: £7 / £5
Castlefield Gallery, Manchester
A workshop creatively engaging with the transformative power of water using the cyanotype photographic process. Working outdoors along the canals, participants will be invited to play with different techniques to map the movements of water and register its intricate marks on paper.
More information about this event and booking details here.
---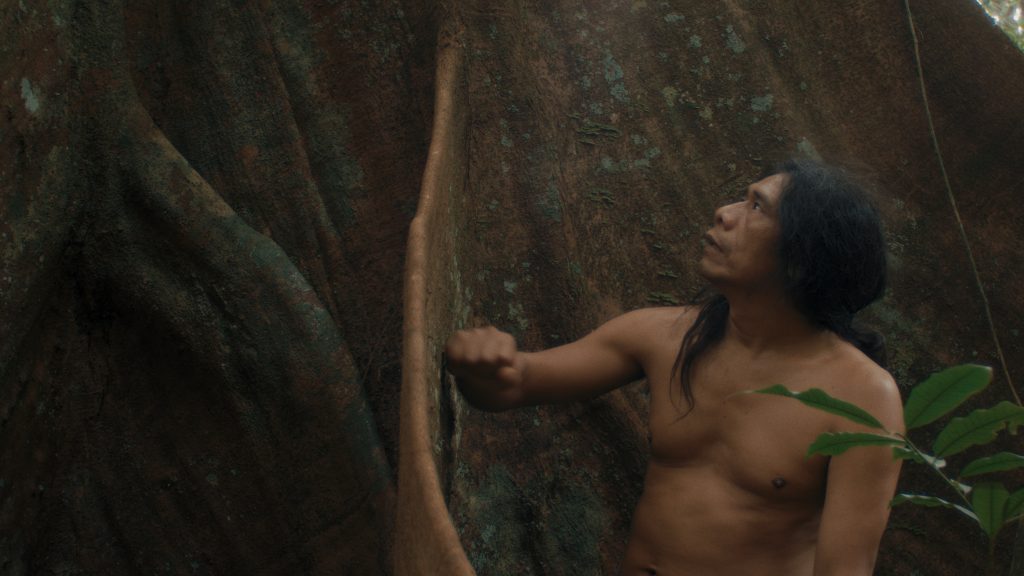 Leviathan: From the Forest to the Sea – More-Than-Human Collaborations
"I see in some moment, historically, we lost the thread with which to weave this cloth. But this tapestry is sewn collectively so we can remake these beautiful, naturally coloured fabrics. Because life is beautiful, it pulsates. But the human incapacity to understand this fluidity, this harmony, unbalances everything and everyone." Cristine Takuá
– Translated extract from Leviathan Cycle: Episode 8: Cris, Sandra, Papa & Yasmine
Touchstones Rochdale recently hosted an event that brought together academics of literature, performance, science and visual arts with artist Shezad Dawood to explore how co-production with communities and nature can reimagine our ecological perspectives.
The event began with a screening of Episode 8 before each speaker introduced their wider practice and research in relation to the themes of the discussion.
Dawood's latest film from the Leviathan Cycle: Episode 8: Cris, Sandra, Papa & Yasmine, retells foundational Guarani origin stories that emphasise a search for balance in humanity's relationship with nature, and between teko porã and teko vai (living well and living poorly).
Departing from this embodied spiritual and ecological journey, the panel discussion invited practitioners who work across different methodologies of co-production, to explore the role of nature within communities to foster more than human connections.
Professor Kate Phal and Nobila Bano (Manchester Metropolitan University/ Voices of the Future), Professor Stephen Scott Bottoms (University of Manchester) and Dr Marilene Ribeiro (University of Manchester) moderated by Shezad Dawood questioned how these collective modes of working, thinking and existing can encourage the balance we are missing in the shadow of the climate crisis.
 About the Speakers
Kate Pahl is Professor of Arts and Literacy at Manchester Metropolitan University. Her work is concerned with listening to the voices of children and young people through co-production methodologies. She is currently the Principal Investigator of a project about children and young people and Treescapes, entitled 'Voices of the Future'. She is particularly interested in intergenerational communicative practices within multilingual families and researching with a focus on multilingualism. Her book 'Living Literacies: Literacy for Social Change' (2020) with Jennifer Rowsell, explores this work.
Nobila Bano is an early-career researcher, with a background working as a lecturer in post-16 education. At present, she is pursuing a full-time PhD within a wider research project named 'Voices of the Future' (UK Treescapes). Using innovative participatory methods, working with intergenerational South Asian families, and located in Northwest England context, her research aims to explore the role of intergenerational knowledge transfer in mediating migrant-background young peoples' relations with/in the natural environment.
Stephen Scott-Bottoms is Professor of Contemporary Theatre and Performance at the University of Manchester. As well as being the author of several books and numerous scholarly articles, he is a practising theatre-maker and storyteller. For the last decade, his research has involved the exploration of water and climate issues through performances built from direct engagement with communities and professional stakeholders. In 2021, Steve's short play "This Island's Mine" toured up the Leeds-Liverpool Canal on a barge, in support of the Aire Rivers Trust's DNAire project. Steve is currently co-chair of the Yorkshire and Humber Climate Commission's Adaptation and Resilience panel, and in that role devised the participatory show "Who Ya Gonna Call? (in event of emergency)" in 2022. His most recent solo performance is "The Boxer's Guide to Climate Resilience" (2023), commissioned by JBA consulting. 
Dr Marilene Ribeiro is a visual artist and researcher from Brazil who lives and works in the UK. Her practice is focused on the environmental and the Human Rights agendas, with a decolonial gaze from the Global South. Her projects are engaged in the political agency of photography and in the role of image-based media in society. She was trained by Magnum Photos and the Central Saint Martins of the University of the Arts London/UK, and holds a PhD in Creative Arts awarded by the University for the Creative Arts/UK. She is currently a Research Associate at the University of Manchester/UK. Ribeiro has been nominated on the PhMuseum as one of the 12 women photographers to watch worldwide. She has works exhibited internationally and articles featuring her work published on platforms dedicated to photography, such as Photoworks, The Royal Photographic Society Journal, LensCulture, VIST Projects, and Viens Voir.
This event was held at Touchstones Rochdale on Wed 21 June 2023.
---