Collective Futures is born out of the desire to collaborate, identify and tackle the climate crisis issues which most concern the local communities close to our partnership.
Steered by a group who have been recruited for their perspective on the climate crisis, Collective Futures acknowledges that people can be experts in their communities and that the best plans involve the very people that are affected by them.

Identifying problems, exploring new ideas and possible solutions, Collective Futures will share and showcase examples of creative work that has made an impact in local and global communities. It will tease out the challenges faced by their local communities and arts organisations to explore what matters, what action to take and what motivation exists.
---
Collective Futures First Meeting – 26th June 2023
Collective Futures began with a warm welcome of foraged pine needle tea. Introductions focused on connection to place followed by role and finally our names which brought a spaciousness to the room – a personal sharing and insight.
Sam Pickett began with a talk. The Collective explored her exhibition through an informal comment and reflection session. Conversations about the gendered experience of being in natural spaces and feeling of fear transitioned to cultural fear of public spaces. Living with nature, side by side, such as the difference between pets and pests and the desirability of weeds and edibles were explored. Acts of foraging for natural dyes, accessibility of scientific data, community participation methodologies and what is deemed a 'wild' space were interrogated. This led the group to question whether the artist's role should be to challenge resistance by working with people who contest 'wild' spaces' and what managed and unmanaged nature is.
Debbie Yare gave an introduction to her work which focused on how the landscape supported her return to health and looked at low cost artistic practice in financial and environmental perspectives. Her talk centred on what it means to be alive in a place and be alive to a place. Debbie spoke about frustration for 'ecosystems and service' which relates to what humans can get out of nature, a term she felt was extractive.
Active Materials – Debbie Yare's walking workshop brought us up close to samphire, dead crabs, the visible layers of time in the eroding mudflats and the carbon sink properties of the salt marshes. Morecambe Bay – the vast vista, the strong warm wind, how the physicality of the place, changed moods, shifted minds, and became a point of collective connection to landscape and each other.
---
Collective Futures Second Meeting – 10th July 2023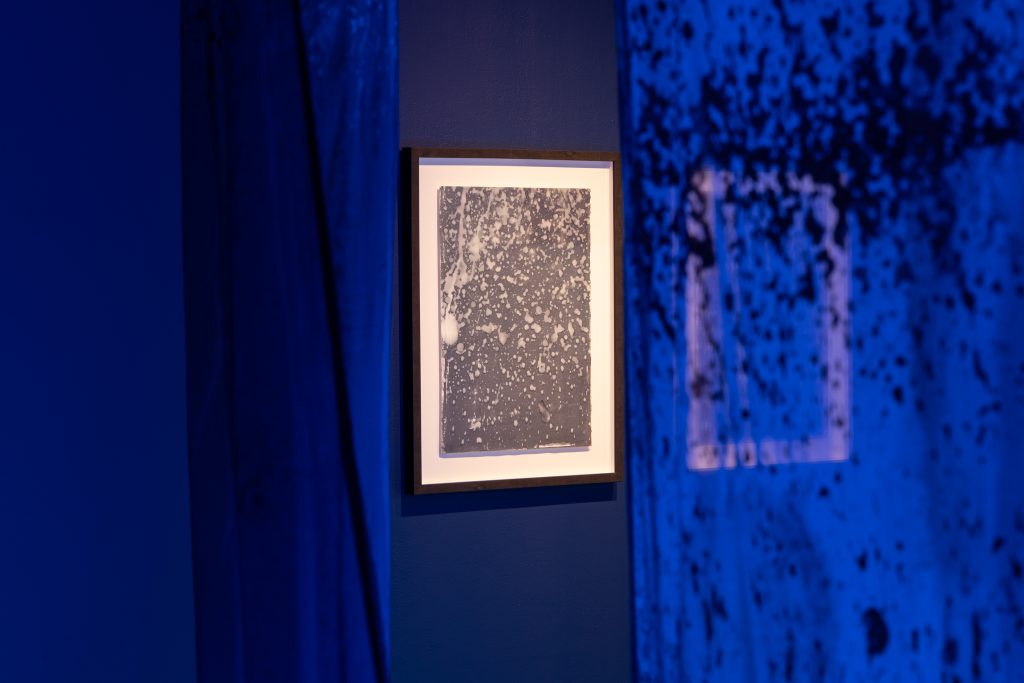 The Poetics of Water, installation view of Jessica El Mal's work. Photography by Jules Lister.
The second introduction to Collective Futures incorporated a curator and artist-led tour of The Poetics of Water, an exhibition by Jessica El Mar and Parham Ghalamdar at Castlefield Gallery, Manchester. Curator Matthew Pendergast situated the exhibition in the context of Castlefield Gallery's origins as an artist-led space with a purpose of supporting artists in the North West and as part of Hybrid Futures – a pilot project which explores how artwork is cared for, collected, commissioned, acquired and transported. Exhibiting artists, Parham Ghalamdar described the overlap between his practice and the climate collapse in terms of the existential concerns he has experienced as an asylum seeker and the fragility of democracy and life standards that could immediately change through the unfolding of political unrest or a threat to national/ individual security. Parham spoke about his new departure into ceramics – a material that can be both wet and dry at the same time, gloopy and solid or both dirty and beautiful. Parham hopes to reveal the 'social, collective way to think outside the binaries', to be conscious of our own carbon footprint and create space for conversation.

The Collective shared a meal together prepared by the Open Kitchen – a catering company who are committed to producing food in the most sustainable and ethical way. Dinner conversation included singing the praises of domestic spiders whose webs act as natural air filters and a call to do less cleaning, Louise Bourgeois' spiders – stitching, weaving, mending, the emergence of mosquitos specific to the London Underground, red earthworm sausages found in the Philippines, climate-aware photography, presenting data connected artistically/creatively, utopian and dystopian futures and personal and collective responsibilities. Discussion was expansive covering the failing education system compared with the regenerative activism of children through cultivation of sphagnum moss set against play, art, culture as vehicles for learning.
---